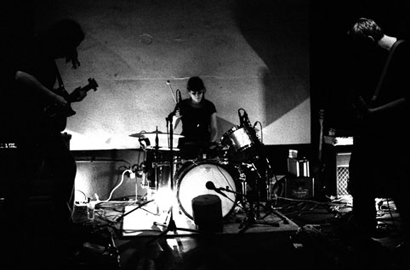 Biography

Kogumaza formed in Nottingham in 2009. They use primitive rhythms, patterns and riffs to create dense and mesmeric song-cycles. The band's live sound is manipulated through dub delays and echoes, allowing what is basically a heavy rock trio to expand and willingly lose control of the sound they make as they make it.
The resulting music marries fuzzed-out psychedelia to an ambient aesthetic, placing the band somewhere between the infinite repetition of Moondog, the thick gloop of Master Of Reality-era Sabbath and the hypnotic pulse of Lungfish.
They have released two albums on the Low Point and Lancashire & Somerset labels and toured Europe with Zomes (Asa from Lungfish).
"At times Kogumaza sounds like the future or the strange murmurings of the universe; at others, the cyclical pounding of drums conjures ghosts of ancient rituals, as if drawn from the very centre of the earth" Fluid Radio