HEALTH & SOCIAL CARE
Release day is here! The 3rd Grey Hairs album,
'Health & Social Care'
, is available in
these fine UK record shops
as of today. Support your local shop! The album will be available in USofA record shops on 30th August courtesy of Red Eye Distribution. Ask your shop to order in from them!
Bull Moose
,
Waterloo Records
and
Electric Fetus
have it available for pre-order.
You can of course
order direct from Gringo on red vinyl, CD or download now
. Vinyl stock is already running low!
You can also pre-order/pre-add the album from your
favourite digital store now!
:
Here are some recent reviews:
"yet another album that in a sane world would effortlessly feature on all the end-of-year best-of lists"
9/10
God is in the TV
"
restless with punk rock attack but equally smeared down amongst riffs that have much in common with pre-Nevermind first wave grunge's dirty noise attitude." The Arts Desk
"'Health & Social Care' is a mood-lifting good time of a great big rock record"
Birthday Cake for Breakfast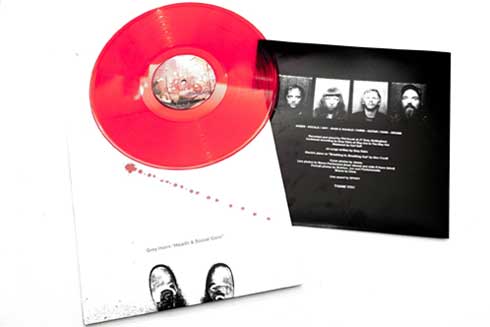 ---
P*SS TRANSGRESSOR VIDEO


Grey Hairs have shared a new video for "P*ss Transgressor" which they say is a song about "seeing yourself in failing men. Standing next to each other in pub toilets dispelling your body waste together. It's a symbiotic moment that is rarely comfortable. It's about the fear of becoming the other. The lines get blurred as we remember our younger selves and times when pop culture was less prescient and that the streams should never cross. The streams have crossed and what now?".

Indeed.





We are releasing the third Grey Hairs album "Health & Social Care" on 2nd August 2019 and you can pre-order on red vinyl, CD or download now.

The first single is 'Tory Nurse' and here's the video...





We are incredibly excited to announce that Bilge Pump are releasing their first album in ten years! "We Love You" will be released on 15th February 2019 but you can pre-order on vinyl, CD or download now.

The first single is 'Wheel of Yew' - it's PiL bass lines, Spacemen 3 guitar and a blistering Butthole Surfers-esque solo are all held together with the tightest drumming this side of Bill Ward, as in the video we witness guitarist Joe take in a brisk autumnal walk with his dog Dolly from Otley to the top of Ilkley Moor.

You can also pre-order/pre-add the album from your favourite store and stream 'Wheel of Yew' now!: http://smarturl.it/BPWeLoveYou