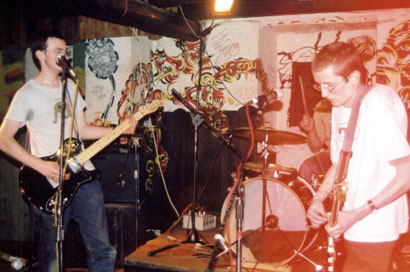 Biography

Hirameka Hi-Fi formed in 97 around a core of schoolmates who shared the desire to make music that was exciting, angular yet accessible. They put out their debut 7", 'Munchin', on Gringo in January 1998. A mix of shouty vocals, sugary car-alarm guitar riff and pounding rhythm owed a lot to contemporary influences like The Yummy Fur, Bis and Urusei Yatsura, but also won the band support from both John Peel and Steve Lamacq Radio 1 shows. They only actually played their first live shows after this...
The 4 track 'Play Hard EP' was released in Autumn 1998, and stands up as one of the classic records to come out of the UK underground in recent times. Reflecting the divergent influences the members were growing into, it mined a harder vein of alt-rock, alongside slower, more melodic, instrumental influences. Steve Lamacq got the band in to record a Session Unsigned. The diligent BBC engineers captured the band in raw, dambusting form. On its broadcast, the session broke Radio One, causing the emergency back-up tape to cut in...
Hirameka's next two releases were a 7" and mini-album on London's Extreme Sports. The double A-side single 'No Pictures / Hold It Up' (imagine 'Goo'-era Sonic Youth meets Joy Division) came out in February 1999, leading to pieces in Melody Maker and i-D, a Peel session, a handful of live performances, and a trip up to Scotland to record at Chemikal Underground's Chem 19 studios, new drummer Ben in tow.
The title of the album, "A Proud Tradition Of Failure", reveals something about the travails of making it, and this turmoil is reflected in the disparate styles on display over the two sides. The swan song of this incarnation of the band was the Radio 1 Peel Session, dominated by moody instrumentals such as "A Warning And An Ultimatum". This line-up officially disbanded in the middle of their first NME interview, and the album was released unsupported.
Eventually, a new three piece Hirameka Hi-Fi (Tom, Ben and new member Pete) sprung from the ashes with the 'Hirameka Hi-Fi EP' on Extreme Sports, bringing a tighter, sparser sound. Next the band returned to Gringo for the "The Imperfect Approach" / "Self-Starter" 7 inch in September 2000. In support, they did their first proper UK tour with labelmates Eska and Reynolds. The next year, the band lived together and rehearsed intensively for a month to record their first album proper, "Sprezzatura" with The Electric Press. It was released in May 2002, and a few months later Chris rejoined Hirameka for a European tour.